Sphene is KJD's interpretation of the fusion of Peridot and Jasper.
Appearance
Edit
TBA
Personality
Edit
Nothing is known about Sphene's personality yet
Abilities
Edit
Sphene possesses standard Gem abilities, bubbling, shapeshifting, fusion, regeneration, agelessness, and superhuman strength/durability.
Gemology
Edit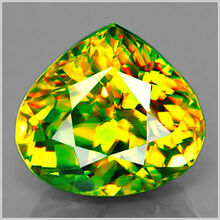 Sphene is a very rare brilliant yellowish-green, green, orange or brown gemstone with a high luster, also known as "titanite" due to its titanium content.
The name "sphene" comes from the Greek word, "sphen", meaning "wedge", which alludes to the formation of its crystals.
Due to its high dispersion, when brilliant-cut, sphene can exhibit a fire similar to that of diamond.
Sphene has been known since 1787 and was named according to its titanium content in 1795 by Martin Klaproth. In 1801, it was given the name "sphene" by French mineralogist, Rene Just Hauy.
In 1982, the International Mineralogical Association Commission on New Minerals and Mineral Names (CNMMN) decided to use the name "titanite" rather than "sphene".

However, both "sphene" and "titanite" continue to be recognized in mineralogy circles, and sphene is the most frequently used gemology term.
| Image | Description |
| --- | --- |
| | Jasper's gemstone is located where her nose otherwise would be. It is triangular, and faceted onto a low point. |
| | Peridot's gemstone is located in the center of her forehead. It has facets around the edge, but they are hidden behind her skin, making it appear smooth surfaced. Her gem also lacks a ring. |
v • e
Fusion Gems
Cross-Alignment Gem Fusions