Smoky Quartz is KJD's interpetation of the fusion of Rose Quartz and Amethyst.
Appearance
Edit
Smoky Quartz has grey-pink skin, grey-pink hair, plump lips, and two eyes with black pupils. She has a thick build with four arms, a small chest, a thick waist, and thick hips. Her gemstones are embedded in her chest and navel.
She wears a white and pink tank top and dark maroon pants with star cutouts on the knees. She wears a petal neck piece and white slippers.
Personality
Edit
Smoky Quartz has some sort of a "wild child" personality.[1]
Abilities
Edit
Smoky Quartz possesses standard Gem abilities, bubbling, shapeshifting, fusion, regeneration, agelessness, and superhuman strength/durability.
Gem Info
Edit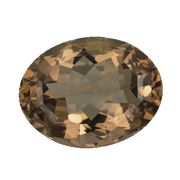 Smoky quartz has the repeating unit SiO2.
Smoky quartz ranges in color from light grayish-brown to deep black.
Smoky quartz can be opaque, but is almost always transparent to translucent, even when in its darkest color shade.
Smoky quartz is a very common gemstone, with not much importance in history. Only in very recent times has it become popular.
Smoky quartz is considered an efficient gemstone for cleansing and healing. It is believed to ward off negativity.
Smoky quartz is located all throughout the world. Major deposits include Brazil, Madagascar, Mozambique, Australia, Switzerland, Scotland, and the United States of America.
Smoky quartz is considered radioactive.
| Image | Description |
| --- | --- |
| | Amethyst's gemstone features a hexagonal facet. It is a tetradecahedron, specifically a truncated hexagonal dipyramid. |
| | Rose Quartz's gemstone features a pentagonal facet. It is a dodecahedron, specifically a truncated pentagonal dipyramid. |
References
Edit
v • e
Fusion Gems
Cross-Alignment Gem Fusions