Rhodonite is KJD's interpretation of the fusion of Ruby and Pearl.
Appearance
Edit
TBA
Personality
Edit
Nothing is known about Rhodonite's personality yet.
Abilities
Edit
Rhodonite possesses standard Gem abilities, bubbling, shapeshifting, fusion, regeneration, agelessness, and superhuman strength/durability.
Gemology
Edit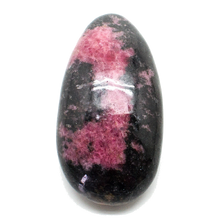 The name Rhodonite comes from the Greek word "Rhodos", meaning rose colored.
It commonly has black veins of manganese oxide, especially in larger specimens.
Rhodonite is a manganese silicate and forms in the triclinic crystal system. It occurs in both a crystallized and massive, fine-grained form.
It is deep pink to red and opaque, with dark veins of manganese lending some patterning. this crystal is usually used as a semi-precious ornament, or as a minor ore of manganese.
It is also used as a tool to help us express confidence and lovingness.
This crystal is often confused with Rhodochrosite and the rare mineral Pyroxmangite.
| Image | Description |
| --- | --- |
| | Pearl's gemstone is located on her forehead. It is unfaceted and ovalline in shape. |
| | Ruby's gemstone is located on her left palm. It features a square facet and is circular in shape. It is a decahedron, specifically a truncated tetragonal dipyramid. |
v • e
Fusion Gems
Cross-Alignment Gem Fusions