Rainbow Quartz was the hypothetical fusion of Pearl and the Homeworld Rose Quartz. She was replaced by Rose Water Opal.
Appearance
Edit
Rainbow Quartz has cotton candy pink skin, bright pink hair, plump lips, four eyes with blue and black pupils, and four arms. She has a thin build with a round chest, thin waist, and thick hips. Her gemstones are embedded in her forehead and upper left arm.
She wears a bra-like dark purple top with a cream star, layered under a translucent light blue tank top. Her midsection is white with a translucent magenta fabric layered over top. She has dark purple leggings, and wears dark purple heels with lighter purple toe tips.
Personality
Edit
Nothing is known about Rainbow Quartz's personality yet.
Abilities
Edit
Rainbow Quartz possesses standard Gem abilities, bubbling, shapeshifting, fusion, regeneration, agelessness, and superhuman strength/durability.
After Rose Quartz's identity discovered to be Pink Diamond, she was replaced by Rose Water Opal.
Gemology
Edit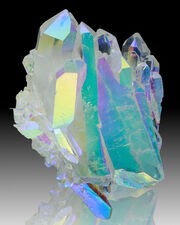 The term "rainbow quartz" can refer to two different types of gemstones:

Iris quartz, sometimes also marketed under the name "rainbow Quartz" or "anandalite", is a quartz crystal displaying internal spectral colors under some of the crystal faces.
Metal-coated quartz, which is artificial, has a metallic rainbow coloration on the surface, and is created by applying a microscopic layer of metal (typically titanium) to a heated quartz crystal via vapor deposition.

Rainbow quartz is associated with hope and optimism.
Quartz gemstones are very durable and hard.
Rainbow quartz is not a traditional birthstone.
Angel aura quartz is actually the technical name for rainbow quartz.
| Image | Description |
| --- | --- |
| | Rose's gemstone is located on her left arm. It features a pentagonal facet and is circular in shape. |
| | Pearl's gemstone is located in the center of her forehead. It is a smooth ellipsoid with no facets. |
References
Edit
v • e
Fusion Gems
Cross-Alignment Gem Fusions