Rainbow Quartz is the fusion of Rose Quartz and Pearl.
Rainbow Quartz has mauve-rose skin and voluminous platinum-blonde hair which appears to be a mix of Pearl and Rose's hair, being long, large, and wavy like Rose's, but with each tuft ending in a distinctive point like Pearl's. It is shaded with pale mint green and pink, though this may be due to the shading in her only appearance.
She possesses only a single pair of arms, and is slender and curvaceous with a tall stature, slightly larger than that of Opal. Rainbow Quartz possesses two pairs of eyes; the top pair are larger and colored pale indigo, while the bottom pair are smaller and colored black. Her nose is shapely and pointed like Pearl's nose, but short with discernible nostrils like Rose's. She also has defined lips that are similar to Rose's, but lack the lipstick that she has.
Rainbow Quartz wears a sleeveless, pinkish-peach leotard with violet leggings. There is a cutout resembling a four-pointed star on the area where Rose's gemstone is. She also wears a transparent blue shawl with lime green outlines over her upper body. Her outfit includes no footwear, but instead has long magenta leg warmers that cover her lower legs and part of her feet.
Nothing is known about Rainbow Quartz's personality yet.
Rainbow Quartz possesses standard Gem abilities, bubbling, shapeshifting, fusion, regeneration, agelessness, and superhuman strength/durability.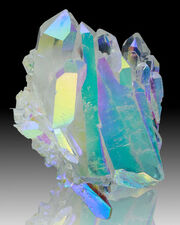 The term "rainbow quartz" can refer to two different types of gemstones:

Iris quartz, sometimes also marketed under the name "rainbow quartz" or "anandalite", is a quartz crystal displaying internal spectral colors under some of the crystal faces.
Metal-coated quartz, which is artificial, has a metallic rainbow coloration on the surface, and is created by applying a microscopic layer of metal (typically titanium) to a heated quartz crystal via vapor deposition.

Rainbow quartz is associated with hope and optimism.
Quartz gemstones are very durable and hard.
Rainbow quartz is not a traditional birthstone.
Angel aura quartz is actually the technical name for rainbow quartz.
| Image | Description |
| --- | --- |
| | Rose's gemstone is located where the navel would be. It has a pentagonal facet and is circular in shape. |
| | Pearl's gemstone is located in the center of her forehead. It is a smooth ellipsoid with no facets. |
v • e
Fusion Gems
Cross-Alignment Gem Fusions



Community content is available under
CC-BY-SA
unless otherwise noted.