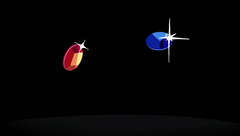 Gemstones are the core components of any Gem. They appear as literal gemstones of various cuts, shapes, and colors, located somewhere on a Gem's physical form.
Description
Edit
Gemstones are the Gem being itself. A Gem's physical body is a hologram with mass with their gemstone acting as a power source or brain. Gems are able to retreat into their gemstones to regenerate a new form if damaged.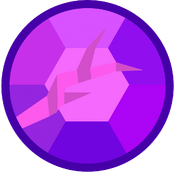 Any damage to the gemstone can result in injury to the Gem and can interfere with their ability to control their physical masses or their abilities. Destroying a gemstone leaves the Gem unable to regenerate, essentially killing the Gem. The remaining shards retain some magical properties, allowing artificial fusions to occur.
During fusion, gemstones change color and size to reflect the new Gem created, unless participants are the same type of Gem, in which case the gemstone just changes size. Multiples of Gems exist, their gemstone placements being seemingly random.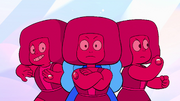 Multiple Gems with the same gemstone may exist. Gemstone placement appears to vary from Gem to Gem, even if they are of the same gemstone. All Gems of the same gemstone will have the same cut to their gemstone; the Diamonds and Pearls are exceptions to this. Gems of the same gemstone may even have different summoned weapons.
Abilities
Edit
Gems are able to store and retrieve or summon items, weapons, and their physical forms inside their gemstones. Gemstones allow the creation of magical gem bubbles that allow for safekeeping of objects or other Gems until the bubble bursts. Gemstones are used to power technology as well, such as magical mirrors and pyramid temples.
Gem bubbles have a stasis-like effect on gemstones; when "bubbled" by another Gem, the gemstone is prevented from regenerating/manifesting its physical body or weapon, essentially being imprisoned indefinitely until the bubble bursts.
Gemstones are also used in Gem technology as power sources for various objects, such as mirrors, buildings, and weapons.
Gemstones are core aspects of each Gem, often helping to shape their personalities and abilities. Due to the sheer size of the Gem empire, individuality is rare, with only serial numbers based on facet and cut to differentiate Gems of the same type.
Gemstones
Edit
| | |
| --- | --- |
| Image | Description |
| | Placeholder text |
| | Placeholder text |
| | |
| --- | --- |
| Image | Description |
| | Placeholder text |
| | Placeholder text |
Cracked Gemstones
Edit
| | |
| --- | --- |
| Image | Description |
| | Placeholder text |
| | Placeholder text |
Although the gemstone being exposed is largely cultural, given that some corrupted Gems have had them internally, Steven once expressed discomfort as a baby when his baby onesie covered his gemstone.
Community content is available under
CC-BY-SA
unless otherwise noted.